DESTINATION
INDIA
ALTITUDE
6173m
Sometimes there are offers you just can't refuse…
Manu Pelissier made the first ascent of the East Face of Cero Kishtwar in India with three friends. Story.
Sometimes there are offers you just can't refuse…
When my good old friend, Marko Prezelj offered to go on an expedition with him to India along with Urban Novak and Hayden Kennedy, at first I asked him to give me a week to think about it. But in less than an hour, I had called him back to confirm and to get some info on what this East Face of the Cero was all about – I needed something to quench my burning curiosity.
Cerro Kishtwar is located in the Jammu and Kashmir area, in the Kishtwar province. It stands 6173 metres high and has only been ascended twice. First by Mick Fowler and Steve Sustad in 1993, and then a Swiss team in 2011 made up of Stephan Siegrist, David Lama and Denis Burdet.
There was also a wonderful attempt as well in 1991 by Brendan Murphy and Andy Perkins on the incredible North Face. They spent 17 days on the face but had to admit defeat just 100 metres away from the summit. On the 'directissime' of the North Face: 1000 climbing metres and 28 pitches, hauling a lot of equipment.
Photo credit: 'Marko Prezelj'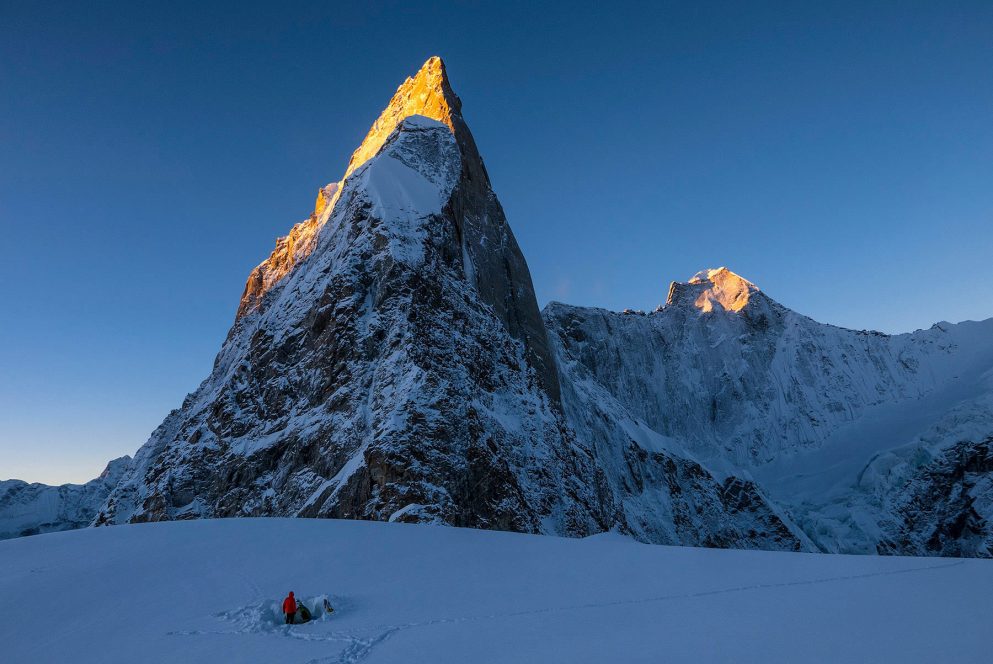 Two impetuous youngsters and two old fogies…
On the 10th of September, we all meet in Delhi. Urban and Hayden know each other from climbing K7 together in 2012. With Marko, I've shared many great alpine adventures over the past 17 years.
This was an interesting team: 2 Slovenians, a Frenchman and an American, two impetuous youngsters and two old fogies… All centred on the same objective: the never explored East face of Cerro Kishtwar.
Hayden is a young and talented American climber. Only 26 years old, he's already made impressive ascents, K7 in Pakistan being one, and was the first to climb Cerro Torre in Patagonia in one go. Urban is the brain of the operation, a biology PhD student and experienced mountaineer, he is calm and really open-minded (he has already climbed with Americans…). Marko is to mountaineering what Keith Richards is to rock'n'roll, but more romantic, forgetting drugs and leaving women by the wayside, but enjoying a drink at the end of the day. And then there's me, Manu, on the edge of retirement. I had a relapse, so to speak, with this expedition thanks to the Rolling Stones.
Photo credit: 'Marko Prezelj'
We soon realised that we all clicked and got on like a house on fire and, if the itinerary and the weather added a bit of spice, we would soon have the perfect recipe, good enough to warrant a seat at the table of the gods of expeditions.
Making your way towards the Kishtwar range is a long and hazardous trip. Firstly crossing Manali by bus, and then by 4 wheel drive on the Kishtwar killer road (sic!) until Gulharb garh. The Kishtwar Killer is a seriously crazy road built along the face of huge cliffs some 200 metres above the river, where the slightest error would prove to be your last.
Four wonderful days trekking in the Darlang Valley, the most scenic trek we'd ever done. After passing through the holy village of Machaï, we finally arrived at base camp, 3900 metres above sea level, at the foot of the Chomochior glacier; the gateway to our objective, the East face of Cero Kishtwar.
The spot we've chosen for our base camp is right at the bottom of an imposing granite wall, geared with brand new pitons! We learnt afterwards that they had been put there by a Swiss team which had been there in August. It was exactly what we needed to allow our younger climber Hayden to keep in shape.
Photo credit: 'Marko Prezelj'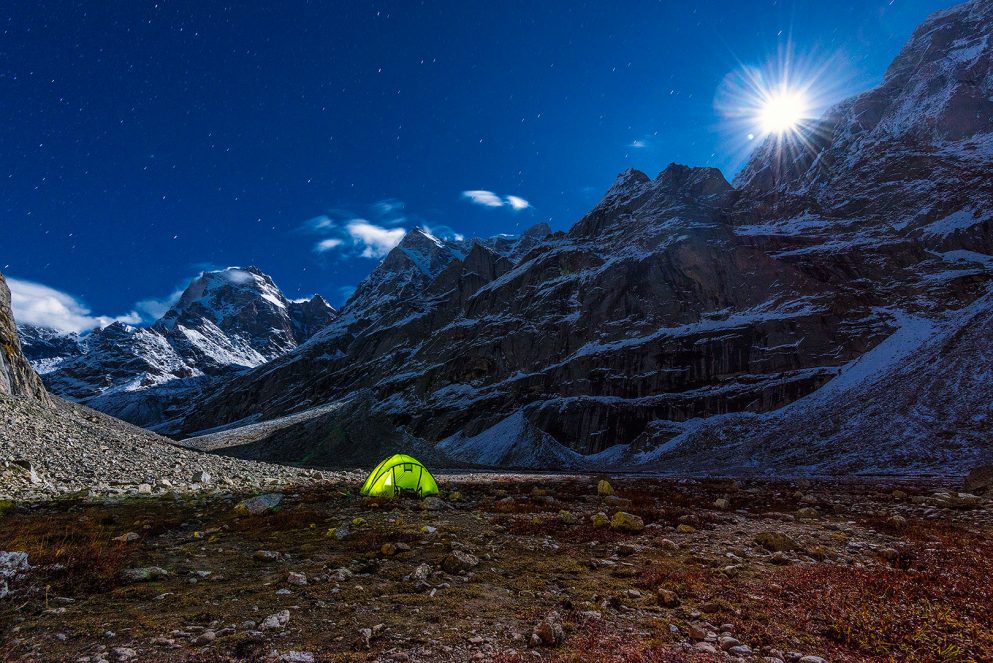 Our ideal life at base camp soon came to an end. With the first snow melting, we suddenly had to interrupt our card game and spring into action with picks and shovels to dig channels around our tents to redirect the water and save our equipment.
The melting snow that had nearly sent the whole expedition back to the valley was a blessing sent forth by the expedition gods. When we first arrived, the East face of Cero Kishtwar was really dry and thankfully, with this weather, we changed settings from a potentially very risky and hazardous ascent in dry conditions to something a lot safer, with a lower risk of rock falls.
Photo credit: 'Marko Prezelj'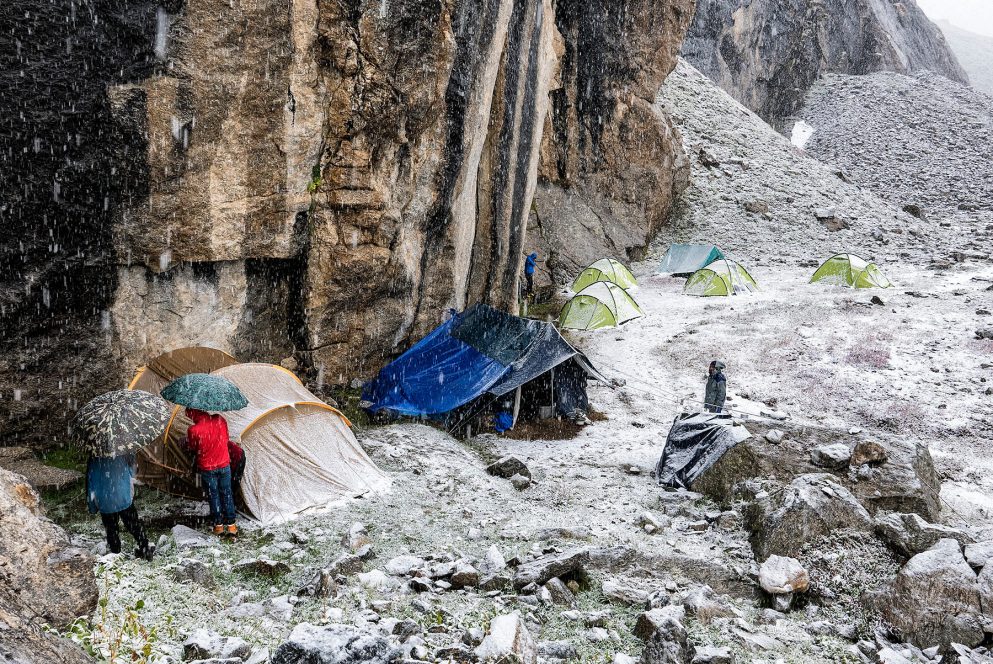 The first part of acclimatisation was carried out on two levels. Marko, Hayden and Urban climbed the west part of the Chomochior ridge, which is 6278 metres high. On the other hand, I decided to climb various routes around the 5000 metre summits, together with our guide Bagual and our 'cook' Betoo. These wonderful walls prepared me well to face our first objective.
Once acclimatised, it was time to relax at camp, enjoy a beer, talk about this or that and plan our forthcoming attempt of the CK.
The plan was to take food for 5 days, move the advanced base camp next to the base of the face and then go for it!
On the 5th of October, after snowing the whole night, the face was plastered with fresh snow. It was cold, Marko was opening the route and Urban, Hayden and I started to examine the left-hand side of it in the hope of finding an easier gully giving us a better opportunity.
Photo credit: 'Marko Prezelj'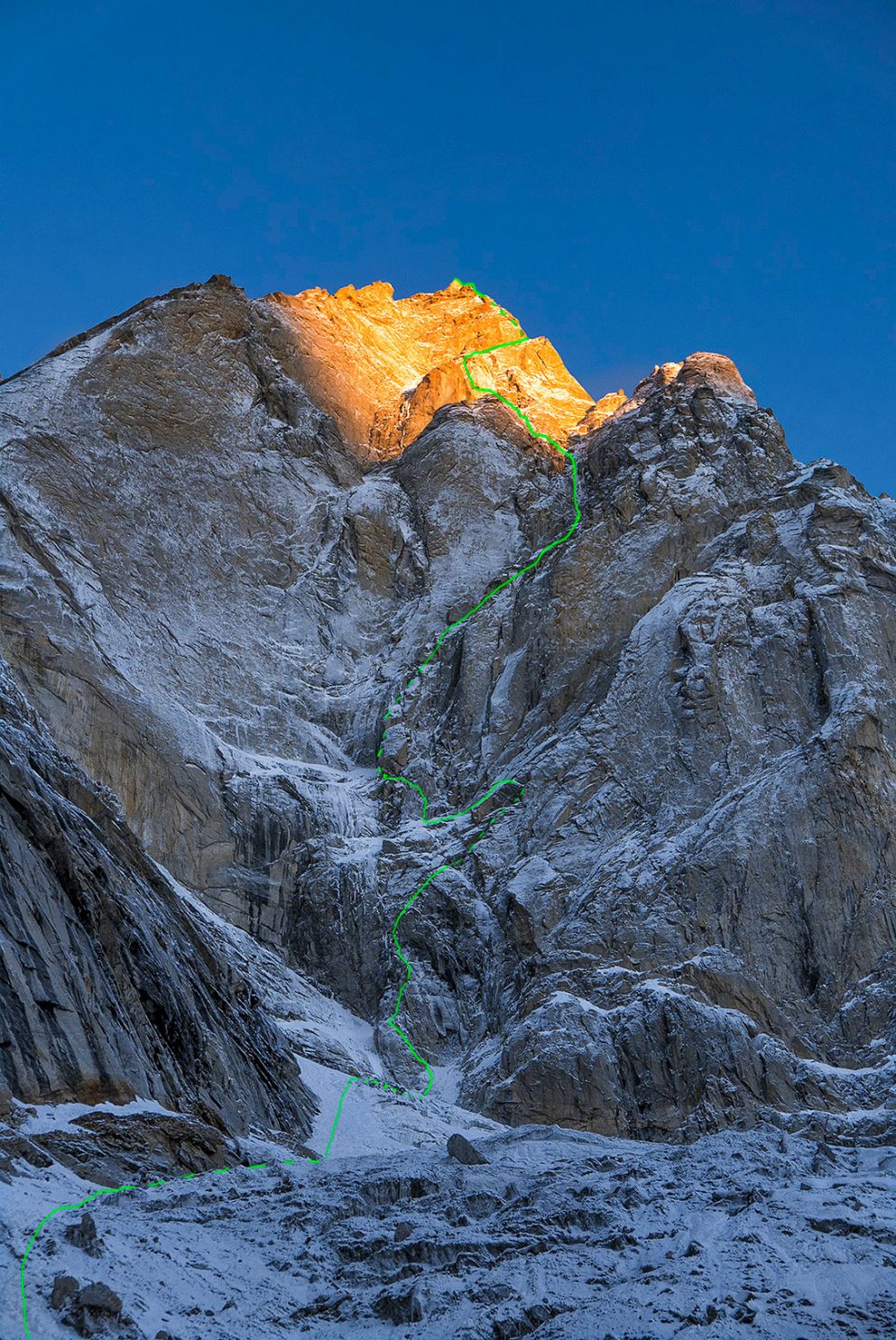 'Don't be wimps, we can do this…'
A little wisdom stays with you forever.
'Don't be wimps, we can do this…'
These comforting words came from the mouth of Slovenian poet Marko Prezelj. Immediately, we refocused and centred ourselves on the best possible route. Not the easiest, nor the most comfortable, but definitely the best: directly on the East face.
The most difficult time of this ascent wasn't a grade 6 or 6b, but, truth told, the grade of the route didn't matter much really. We all possessed the necessary skills needed and any doubts were quickly chased away by the utterance of this phrase, the password for us to start playing the real game.
Photo credit: 'Marko Prezelj'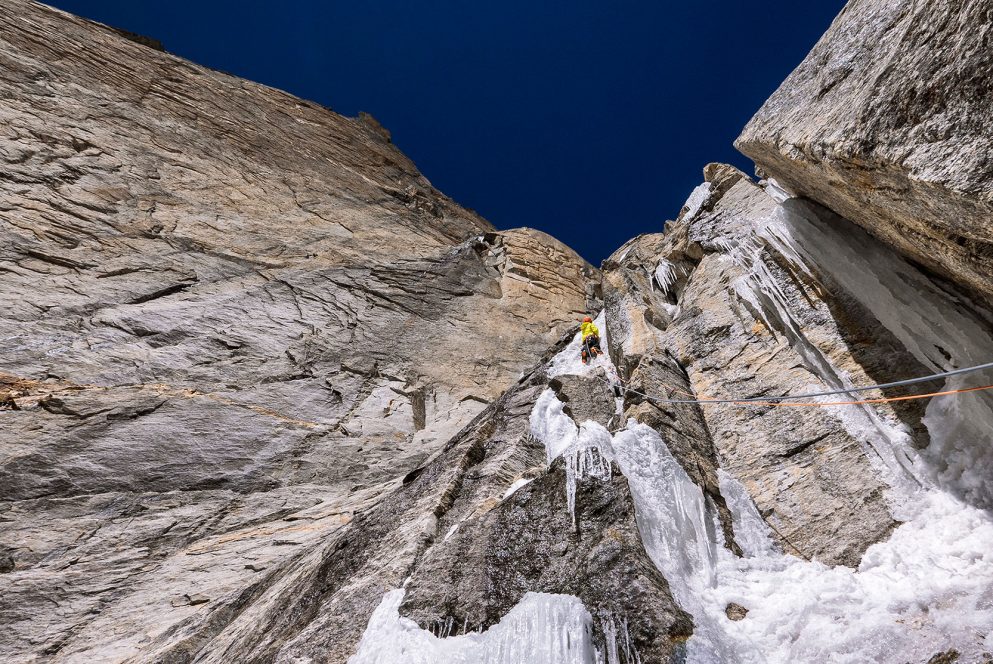 We started the ascent, centimetre by centimetre, sharing the same rope, good jokes and great headlamps. Somehow, on this 8 of October, we all saw the dawn at one of the most beautiful places on this continent, with an incredible view: mountains all around you, not the slightest sign of civilisation to be seen. There are moments you'll never forget and this one will stay with me forever, at 6173 metres, the summit of Cerro Kishtwar.
Photo credit: 'Marko Prezelj'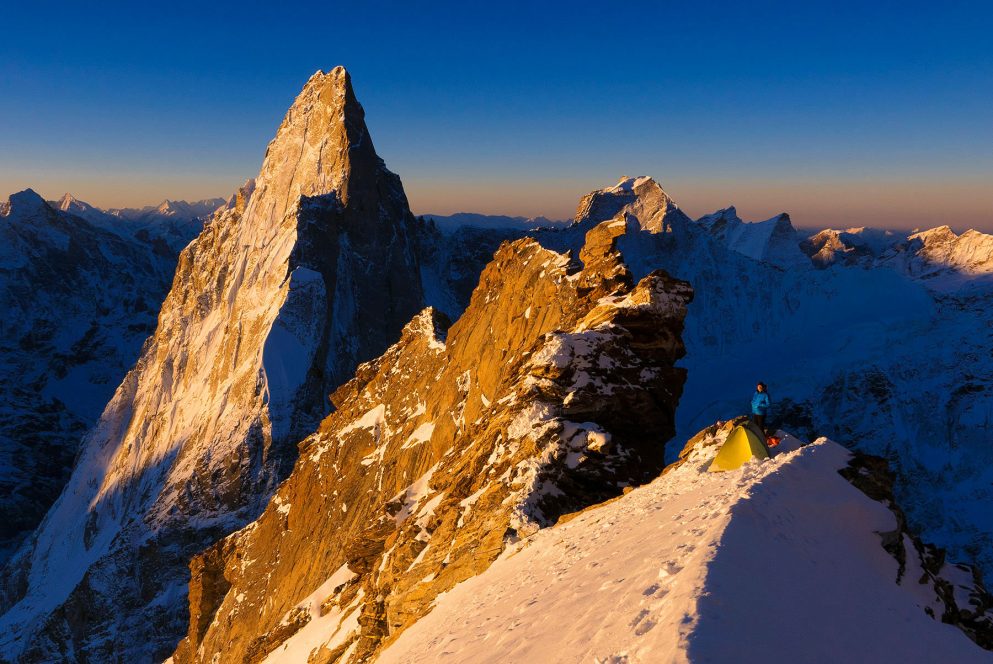 After one day struggling on the route to the left, with rock and snow falls, we were more than happy when our Slovenian poet pushed us towards the route on the right.
From the summit, we climbed straight back down to base camp with just one day to rest and pack everything (and finish the beers and whisky) while going over all these great memories, and Slovenian poetry lessons. Then slowly but surely, we started getting back down to civilisation, taking with us the memories of a truly breathtaking expedition.
Photo credit: 'Marko Prezelj'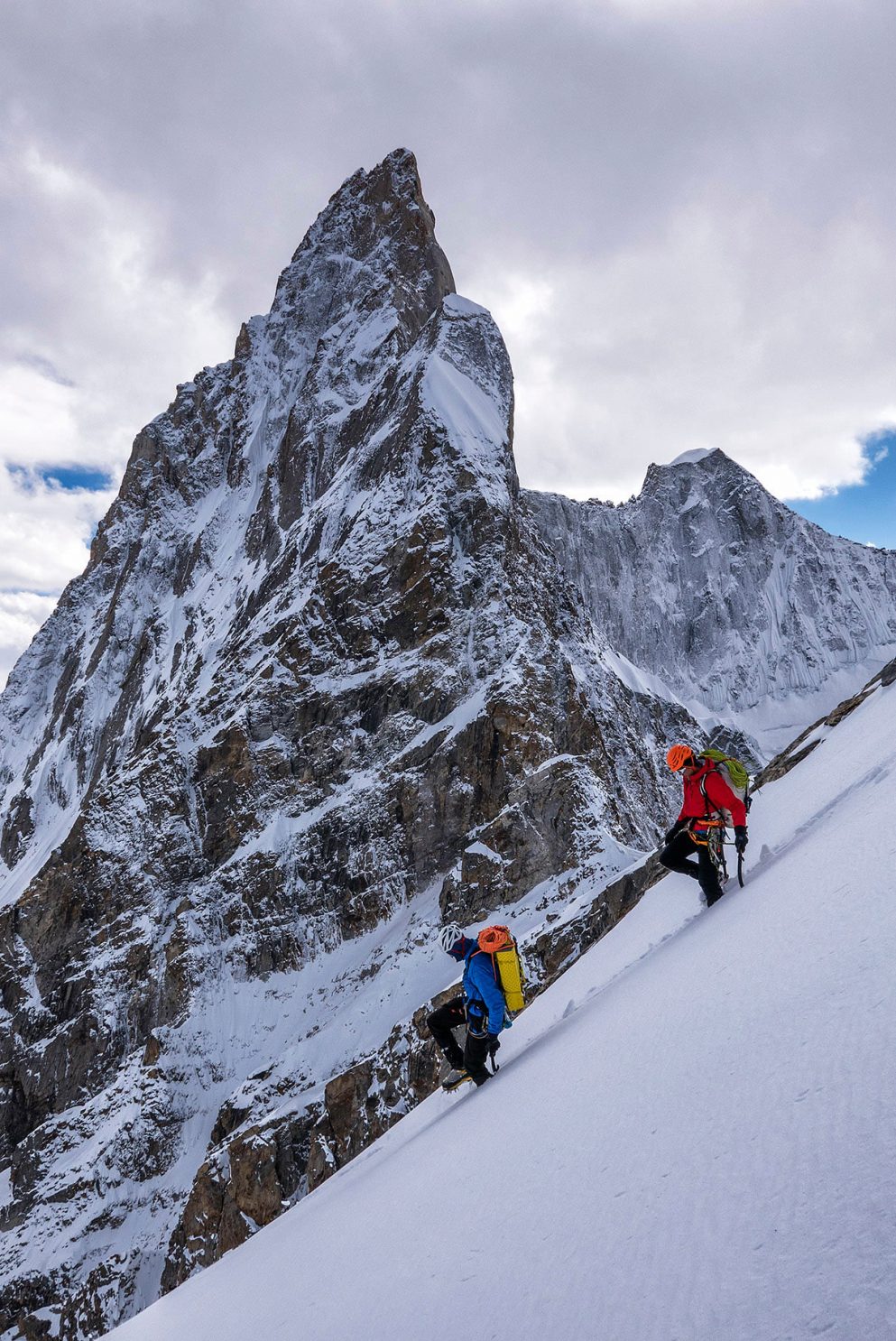 Il y a des expéditions que tu n'oublieras jamais
The team would like to thank all the people and companies that helped us with our adventure.
Millet Expedition Project, Katadyn, Julbo, Petzl, Nemo.
First ascent of the East face of Cerro Kishtwar: 'light before wisdom' ED+/1200m; (wi6; 5.11; A2; M6), from the 4th to the 8th of October, by Marko Prezelj, Urban Novak, Hayden Kennedy, Manu Pellissier.
Photo credit: 'Marko Prezelj'